Age month continues today – we're hearing from Sarah-Lou, who cares for her 93-year-old mum. Do you relate? To share your own story or find out more, join in our Twitter chat tomorrow (Friday 23rd May) at 11.30am GMT. We'll be joining forces with Carers Trust (@CarersTrust) for a #SharingIsCaring Twitter chat, where carers can connect, relate and share their stories. Don't forget to use the hashtag! 
I make a big effort not to look in mirrors.
My mirror reflects a serious woman of a certain age.  No wonder youngsters treat me the way I look – 60 plus. How could they possibly know I stopped ageing inside at, erm, 16?
I avoid mirrors because they can't see my feelings, my heart and definitely not the very soul of me. Although image does reflect a person, it is just a surface.
I've many friends and neighbours, but I'm an only child with an only son living his successful busy life with his girlfriend. So I'm alone with the big responsibility of caring for my 93-year-old mum, and organising things with her carer/companion. We live next door to each other for good and bad.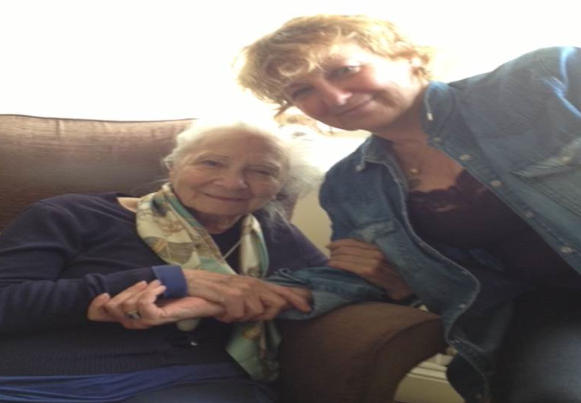 Sarah-Lou and her mum.
Oh, I didn't mention mum's friend… her dementia! Mum's dementia seems somehow like a cover-up. Highly intelligent, extremely funny, wise and wonderful, gone happily into forgetting everything. But Mum is fine and content. Life can be easy if you forget everything.
No – although it's seriously difficult and upsetting for her, somehow she's adapted so cleverly to her situation. She wears dementia well. I make sure her life is surrounded by everything she needs. My simple philosophy is 'love is all you need'… ( apart from money!).
Mum and I chat away even if I have to repeat something a million times. Her logic and advice are a godsend. She's a funny thing, one of the wonders of my world. Diagnosed seven years ago, she now seems to proudly wear dementia like a favourite cardigan. It's part of her freedom and wicked, fun personality. People in her life love her to bits. She may have lost her memory, she hasn't lost her wit.
Mum's carer also lives in. I feel as if I care for her too! A delightful, bright young Romanian lady who has become mum's companion. They truly love each other. I'm grateful even if it means I'm almost looking after two people's welfare. Then there are the physios, hairdresser, fitness trainer and cook. I'm running a mini, private personalised care home, keeping up a standard of living for mum fit for a queen. I bury my head in the sand when I think of the expense I can barely afford.
I run my own business – a company branded as a high-end luxury cosmetic line. I was badly bitten by bugs many years ago but could only find disgusting insect repellents. At that time, I was volunteering at The Chelsea Physic Garden, London. I dabbled with essential oils and in summer 1996 came up with a sweet smelling effective anti bug bite formula. I took it to a cosmetic factory, invested in some bottles and stuck the whole shebang up on the internet! It takes up most of my time when I'm not caring for mum.
Sometimes I pop into mum and she bursts out laughing: 'Sarah-Lou, what have you done to your hair?'… Maybe I should look in a mirror a bit more!
Thanks so much Sarah-Lou for sharing her story. She is supported by Camden Carers, a centre supported by Carers Trust.