Hello everyone, and a big What I See welcome back. If the January blues and/or horrible weather are dampening your entry into 2014, we're making it our mission to dry you off and cheer you up – because we're finally rolling out our monthly conversations on the topics that matter to you.
During January, What I See will be home to everything and anything on the subject of  'motherhood' – a topic that has come up over and over again in our contributions. Mothers, non mothers, adoptive mums, young mums, working mums, single mums and many more will be discussing the issues that have affected them. No taboo will go unturned: we'll be tackling childlessness, breastfeeding, postnatal depression, maternity and paternity leave.
Whoever you are and whatever your story, we've got something to suit you. Our aim is to track down different women with fascinating angles and different experiences of motherhood – and their discussions will be circulated right here, on the blog.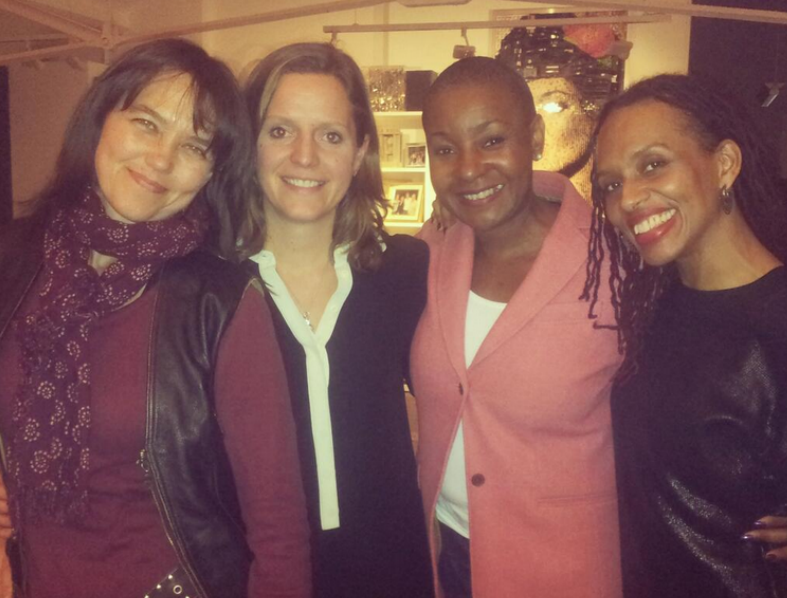 Our leading ladies: left-right Jody Day, Lyndsey Oliver, Viv Oyolu and Dianne Larrington
We'll be kicking off with the pièce de résistance – our podcast. We put What I See ambassador and founder of Gateway Women Jody Day in a room with chair of Mothers Against Gangs and single mum Dianne Larrington, childfree broadcaster Viv Oyolu of Dream Corner, and working mum-of-two and co-founder of Female Quotient Lyndsey Oliver. To find out what happened next (teaser: some fascinating discussions about what motherhood means to women today, a lot of laughter, and casual use of the word 'fomo'), be sure to listen to it here.
We've got bags more up our sleeves: a poem written by spoken word poet Hollie McNish (who you just might recognise from a certain internet sensation), a debate on whether motherhood is women's most defining role, the founder of the charity Bluebell talking about her experience of postnatal depression and explaining how it can be tackled… we could go on, but instead we're going to tell you to keep your eyes peeled and your ears pricked because all this and more will be released on the blog over the coming month.
Our guest content is only the beginning of the discussion. If you hear, read or see something that matters to you, let us know. Get in touch via Twitter, send us an email or comment below the post. Our aim is to get you all talking about the issues that you care about.
And of course, it wouldn't be What I See without the #WISPchat. We've got some great topics planned, which we'll be publicising on our blog and on social media. So stay tuned – you may even get a chance to discuss something you've read with the author herself.
This is only the first month. In February we'll be talking about ambition, with women from Great British Bake Off finalist and psychologist Kimberley Wilson to executive coach and author Jenny Garrett. If you have a story on motherhood or ambition that you'd like to share, drop us a line. We love to talk.
Oh, and one more thing. Happy New Year! This January, mince pies are out, constructive discussions are in. You heard it here first.