Another fantastic #WISPchat was had by all… scroll down to see it in full.
Last night, we welcomed the fantastic four to LSE. No, not that Fantastic Four. This one: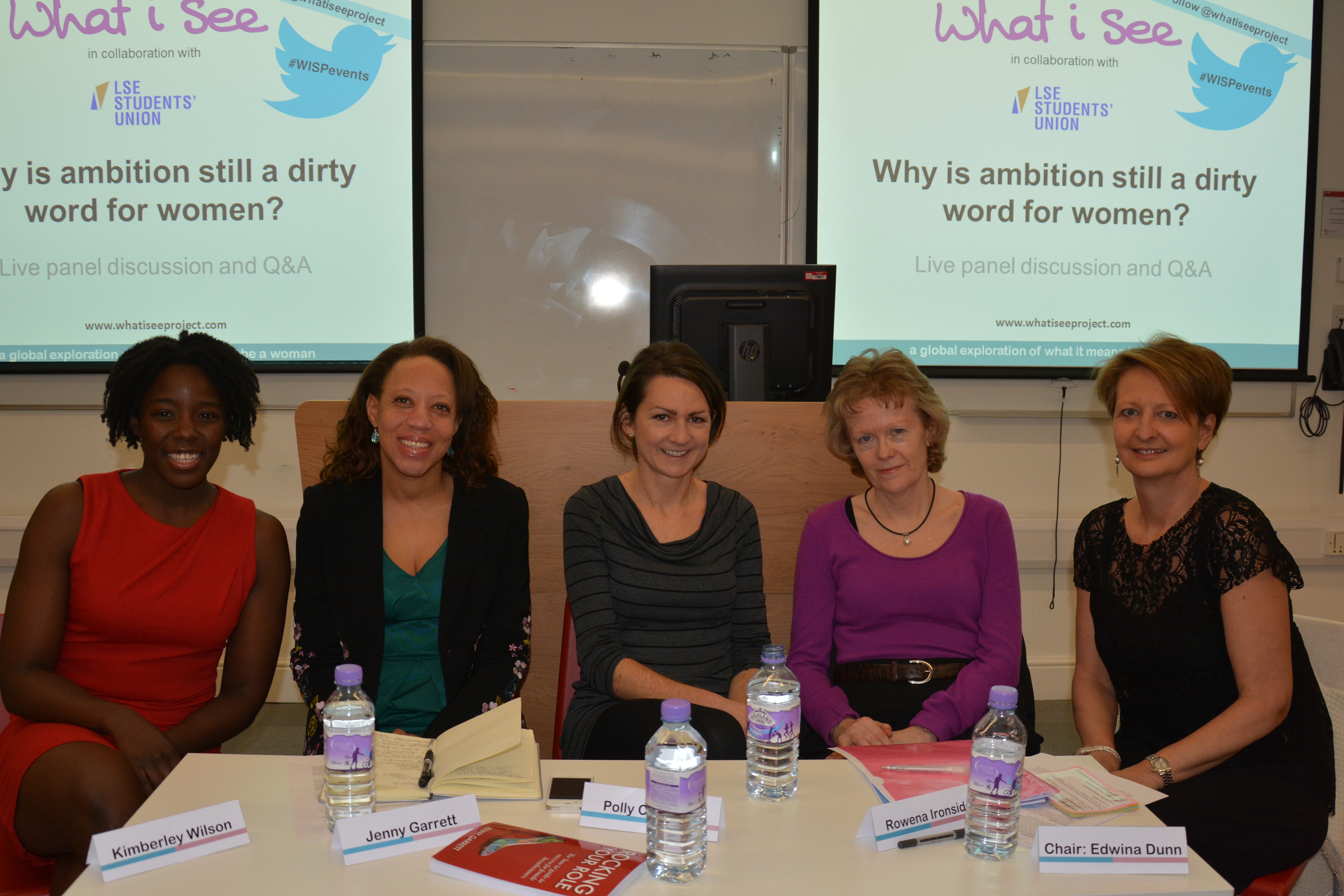 Left-right: Kimberley Wilson, Jenny Garrett, Polly Courtney and Rowena Ironside with our founder, Edwina Dunn.
From psychologist and super baker Kimberley Wilson, to investment-banker-turned-author Polly Courtney, via sought after executive coach Jenny Garrett and Chair of Women On Boards UK Rowena Ironside, we had all bases covered for a discussion on women's and ambition, as part of our month dedicated to the subject.
Those who missed the event, fear not – we've got a post and podcast coming your way. Meanwhile, we'll be keeping you all warm with a #WISPchat (tomorrow at 2pm) on one of the topics that kept coming up last night… how young girls relate to ambition.
It's something all the panellists mentioned. Jenny kicked off her thoughts on ambition by pointing out how our starting points affect our ambition. Jenny's mother's ambition for her daughter was that she wouldn't have a teenage pregnancy – but as Jenny's mum got a degree and her ambitions soared, so did those of her children.
Rowena also attributed her bold attitude to her upbringing: her father moved his whole family to Australia, without having a job in advance.
Polly attributed her success to moving to a boys' school, where open ambition was encouraged. Kimberley said the advice she'd give to her younger self would be 'to give it a go' – as a teenager, she was put off applying to Oxbridge out of a fear she wouldn't fit in.
What it all seemed to come down to was confidence: what stops young girls feeling that they can achieve, or makes them feel they can do anything? Is it through 'real' models – genuine role models for young girls? Is it though mixed education, or treating girls exactly the same as their male counterparts? Teaching parents how to communicate with their children?
So let's talk. What needs to change in girls' formative years? Why aren't girls as comfortable being ambitious as boys? How can we give them the confidence to say what they want to achieve, instead of being too scared to try? See you 2pm GMT on Twitter (don't forget to follow the #WISPchat hashtag) – because you can change the world on a Friday lunchtime.
And here's what you said… 
Thanks to all our participants – see you next week for another fulfilling Friday.